Orange salad with grapes and halva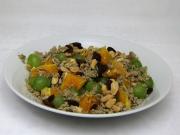 Fast healthy delicacy. Definitely better than the bought "cookie".
recipe,photo-recipe,white grapes,sunflower seed halva,Fruit salads,Vegan recipes,Vegetarian recipes,Gluten-Free,Lactose-Free
Fruit salads
Recipe
1.
orange 0.5 oz (15 g) • white grapes 100
Peel the oranges and cut into pieces. Wash the grapes and add to the oranges.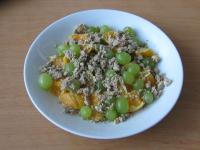 Bon appetit!