Unbaked carrot cake with banana cream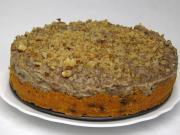 Almost raw, healthy cake made of carrots, bananas, nuts, peanuts, coconut ... without flour, sugar, milk, eggs and of course without baking. If you use only pure nuts instead of roasted peanuts, you will create a raw cake and not just almost raw :)
recipe,photo-recipe,carrots,banana,Healthy cakes,Raw food,Vegan recipes,Vegetarian recipes,,No-Bake,Gluten-Free,Lactose-Free
Healthy cakes
Recipe
1.
carrots 1.1 lb (500 g)
Clean, wash and cut the carrots.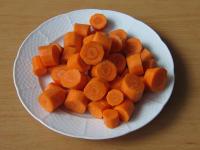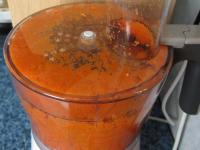 3.
dates 3.5 oz (100 g) • grated coconut 1.75 oz (50 g) • coconut oil 1 oz (25 g)
Chop the dates, add the carrots, coconut, coconut oil and mix well (you can use a mixer). Line a small cake form (diameter 20 cm) with baking paper ...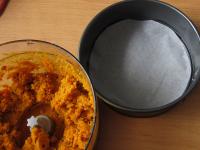 4.
... and put the carrot mixture in the mold. Press and put in the fridge.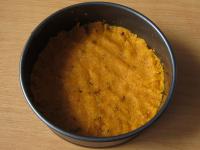 6.
walnuts 3.5 oz (100 g)
Chop the nuts. Put a small part of nuts and peanuts for the final sprinkling of the cake aside.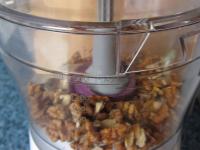 7.
banana 1.1 lb (500 g)
Add the peanuts to the nuts and mix them together in the chopping bowl (or mixers) with the cutted bananas.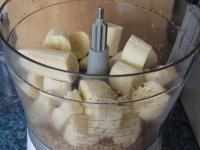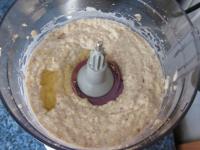 10.
Mix and put the banana-nut mixture on the carrot layer.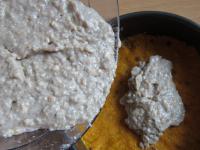 11.
Garnish with set-aside nuts and let it solidify in the fridge for a few hours.
12.
Cut into small slices before serving. Although the individual portions are small, they are filing and energetic.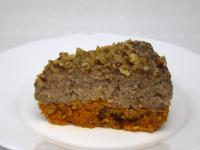 Bon appetit!