Autumn Vegetable Soup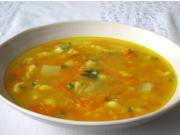 Soup full of healthy vegetable. Without salt addition during cooking the soup can be served for children which will definatelly get to like it.
recipe,photo-recipe,carrots,parsley,kohlrabi,celery,potatoes,Vegetable soup,Children recipes,Seasonal recipes
Vegetable soup
Recipe
1.
carrots 8.75 oz (250 g) • parsley 5.25 oz (150 g) • kohlrabi 8.75 oz (250 g) • celery 5.25 oz (150 g) • unsalted butter 1.75 oz (50 g) • salt 1.5 tsp
Trim the vegetable and roughly grate it. Steam in the butter, salt when for adults.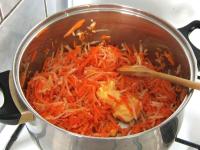 2.
Then partly mix it with hand blender.
3.
potatoes 8.75 oz (250 g)
Peel the potatoes and cut into the small cubes. Add into the vegetable. Blend...
4.
water 2.1 quart (2000 ml)
...and pour in a hot water. Cook until potatoes are soft (20 minutes).
5. Parsley dumplings
chicken egg 1 pc • semolina 1.25 oz (35 g) • parsley leaves 0.5 oz (15 g)
Blend the egg with semolina. Stir in chopped parsley leaves. Let it stand for a while.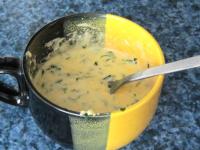 6.
Press the dumplings through the dumpling maker into the boiling soup.
7.
Cook for a while and remove from the flame. Before serving let the soup half an hour stand. Dumplings will cook itself after that time.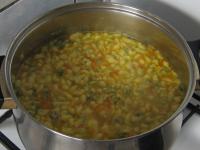 Bon appetit!