Thick celery soup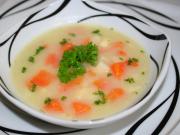 Recipe for a healthy celery soup with a delicate delicious taste. This soup is also suitable for smaller children.
recipe,photo-recipe,celery,Vegetable soup,Gluten-Free,Seasonal recipes
Vegetable soup
Recipe
1.
celery 14 oz (400 g) • pork lard 3 tbsp
Clean the celery and cut it into small cubes. Put fat in a pot, add celery and simmer until soft. Celery releases its own juice, if it burns, add some water.
2.
potatoes 14 oz (400 g)
Clean the potatoes, cut them into small cubes and cook until soft.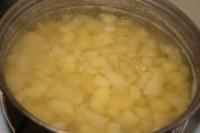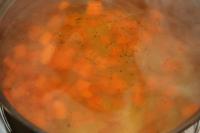 4.
Mix stewed celery and cooked potatoes and ...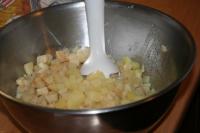 5.
ground black pepper 0.25 tsp • salt 0.5 tsp • unsalted butter 0.5 oz (15 g)
...add to the broth with carrots. Mix, season with black pepper and salt. Add sliced parsley to the finished soup and add a piece of butter. Mix and serve.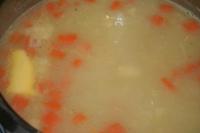 Bon appetit!