Tofu spaghetti sauce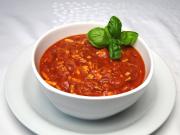 Delicious vegan sauce inspired by Bologna cuisine.
recipe,photo-recipe,celery,carrots,white tofu,tomato paste,Sauces,Gluten-Free,Lactose-Free,Seasonal recipes
Sauces
Recipe
2.
celery 6.25 oz (180 g) • carrots 6.25 oz (180 g)
Peel celery and carrots, wash and grate. Add to the onion.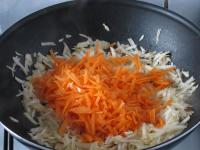 3.
salt 1.5 tsp • spicy chili sauce 1 tsp
Add salt and fry for 5 minutes, stir from time to time. Season with chili sauce ...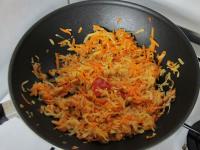 4.
white tofu 6.25 oz (180 g)
... and add roughly grated tofu. Stir and cook together for 5 minutes.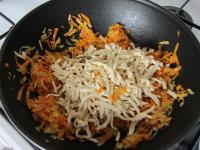 5.
tomato paste 1.05 quart (1000 ml) • garlic 2 cloves
Add the tomato puree, sugar and cook for 10 minutes. Season with crushed garlic.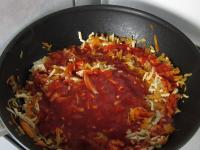 6.
Pour the sauce over a portion of pasta and serve. You can also serve the sauce with steamed dumplings.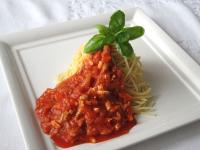 Bon appetit!