Caramel and walnut puffed rice cones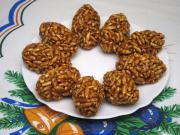 Favorite, no-bake, Christmas delicacy.
recipe,photo-recipe,sweetened condensed milk,puffed rice,Confectionery,Christmas,No-Bake,Gluten-Free
Confectionery
Recipe
1.
sugar granulated 12.25 oz (350 g)
Pour sugar in a deep pot and cook over medium heat to caramelize.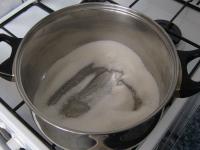 2.
sweetened condensed milk 14 oz (397 g)
Pour in sweetened condensed milk and let the mixture melt while stirring frequently on the heat.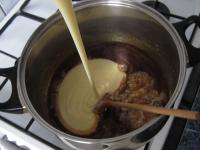 3.
unsalted butter 8.75 oz (250 g)
Set it aside, add butter and stir until it becomes melted in caramel.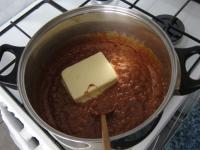 5.
puffed rice 5 oz (140 g)
Pour in puffed rice and mix well. Allow the mixture to cool slightly for about 15 minutes. Stir often during cooling.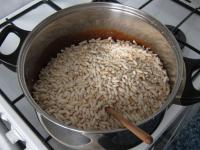 6.
Use your hands to create small balls from the warm mixture, shape them into cones and place them into baking tin. Rinse your hands under cold water time and again. Store these delicacies in the cold place, the best are on the third day so we recommend to hide them thoroughly :). 2 hours before serving transfer them from cold place to the place with room temperature so that they become soft.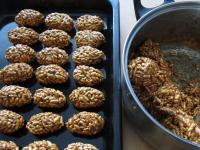 Bon appetit!