Coconut Hearts
Favourite sweet coconut bar not just for couples for Valentines day :) No bake delicacy coloured with fresh beet juice, but you will not detect any beet flavour.
recipe,photo-recipe,grated coconut,grated coconut,sweetened condensed milk,Confectionery,No-Bake,Valentine's Day,Gluten-Free
Confectionery
Recipe
1.
beetroot 5.25 oz (150 g)
Peel raw beetroot and grate it finely. Put it in a sieve and squeeze the juice out.
2.
sugar granulated 1 tsp
Add sugar to juice, shortly bring to the boil and allow it to cool.
4.
Work the compact coconut mixture.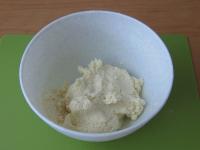 5.
Use a rolling pin to spread it on a board sprinkled with grated coconut until it is about 1 cm thin. Cut out a rectangle in the centre in the size of 20 x 15 cm.
6.
Take the cut-out edges, put them into a soup plate and dye them with prepared beet juice (3 teaspoons).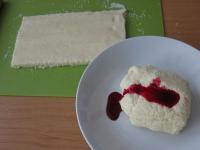 7.
Form a cylinder out of the dyed coconut mixture, 20 cm long with diameter 5 cm, and then form it into "roof" shape (triangle cross section, the triangle with the sides of 5 cm).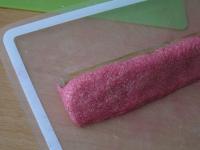 8.
Use a handle of wooden spoon to create a line to one side and gently form it to create a heart shape in the cross section. Place it into the freezer for 10 minutes.
9.
Take the dyed mixture from freezer and place it on prepared rectangle from white coconut mixture, about 2 cm from the edge.
10.
Fold the edge and gently press it into line created on the heart.
11.
Attach the second side of the white mixture, gently create pike of the heart and fold the edge to the line.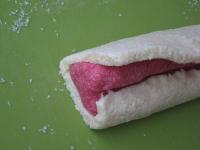 12.
Gently press with a handle of the wooden spoon to create compact joint.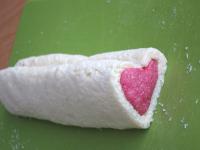 13.
Coat it in coconut, cover with aluminium foil and allow it to stiffen in the cold place.
14.
Before serving, cut it into 1 cm wide slices. Cut it with a wet knife.
Bon appetit!