Coconut Trunk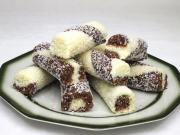 Favourite, non-baked, not only Christmas delicacy.
recipe,photo-recipe,grated coconut,sweetened condensed milk,Confectionery,Christmas,No-Bake,Gluten-Free
Confectionery
Recipe
2.
cocoa powder 0.25 oz (10 g)
Replace the mass on the board and knead again. Divide into halves. Incorporate the cocoa into one half of mass. If you want multicoloured coconut trunk, you can color individual parts of mass with food dye or with few drops of beetroot, or carrot juice and so on.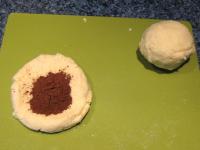 3.
On the board, from the cocoa mass roll up small cylinders with diameter 1 cm.
4.
From white mass roll up small cylinders about 1,5 cm thick. Wrap brown cylinder around white one and by rolling join into the cylinder. You can join brown and white mass by different way according to your fantasy.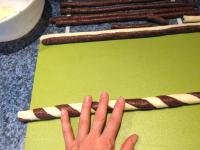 5.
Coat prepared cylinders with coconut. Let it harden...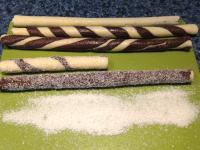 6.
... and cut into the 5 cm long pieces.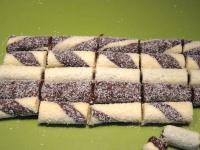 7.
Store in a cold place.
Bon appetit!