Coffee dessert
Delicate cocoa cake base, coffee cream and whipped cream.
recipe,photo-recipe,cocoa powder,butterscotch pudding - powder,whipping cream (30-33% fat),ground coffee,Cream deserts
Cream deserts
Recipe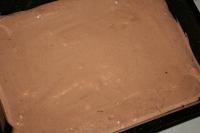 2. Baking
Pour the dough on baking tin (cca 30x25 cm) with parchment paper. Bake for about 20 minutes at 340°F (170°C).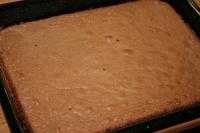 3. Preparation of the coffee cream
semi skimmed milk 1,5% 2.1 cup (500 ml) • butterscotch pudding - powder 2 oz (60 g) • coffee instant 1 tbsp
At first cook pudding: pour off a little milk in the bowl (start to cook the rest), stir in caramel pudding powder and instant coffee. Pour it into the boiling milk and cook dense gruel. Stir occasionally to cool it.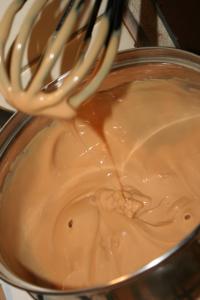 4.
unsalted butter 7 oz (200 g) • powdered sugar 3.25 oz (90 g)
Gradually blend the cool pudding to the softened butter, add sugar and whisk smooth cream.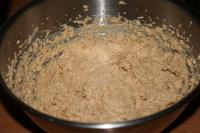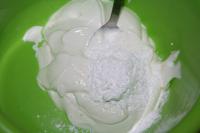 6. Filling and decorating
Spread coffee cream over the cooled layer and flatten.
7.
Spread whipped cream over the cream and use a fork to create decorative lines. Sprinkle with cocoa powder, coffee or grated chocolate. Let the dessert cool well, cut into cubes and serve.
Bon appetit!