Unbaked apple-almond slices
A simple dessert from favorite biscuits, full of tasty and light apple-almond filling, decorated on top with whipped cream :)
recipe,photo-recipe,apples,ground almonds,butter biscuits,whipping cream (30-33% fat),Cream deserts,No-Bake,Seasonal recipes
Cream deserts
Recipe
1.
Peel the apples and grate them coarsely.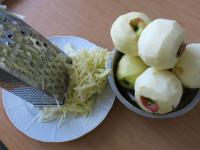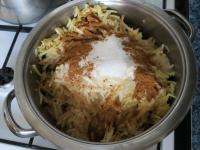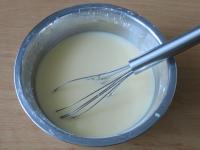 4.
lemon-juice 1.25 tbsp (20 ml)
Add lemon juice to the apples, ...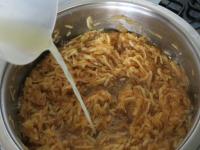 5.
...pudding and cook until thickened.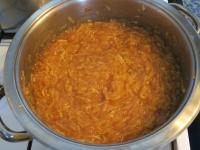 6.
ground almonds 2.75 oz (80 g)
Stir in the almonds. Let cool briefly (not until cold).
7.
butter biscuits 1 lb (460 g) • semi skimmed milk 1,5%
Put quickly soaked biscuits in milk on a baking sheet (soak only the first layer of biscuits). Our dessert has three layers of biscuits and three layers of apple filling. However, you can also store the biscuits in different way, or in width, length and height, and layer the filling according to it. Spread a third of the warm filling on the biscuits ...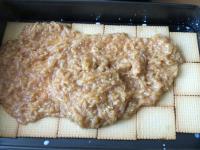 8.
... and put the biscuits again. Continue with the second third of the filling, biscuits and the last third of the filling. Let cool.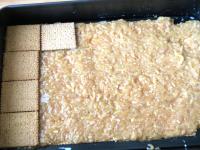 9.
almonds 0.75 oz (20 g)
Pour hot water over the almonds, let rest for a while, drain and peel. Break them in half.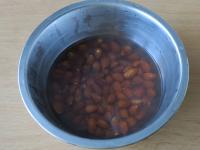 10.
Fry briefly in a dry pan.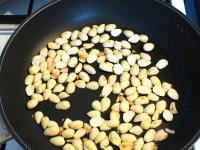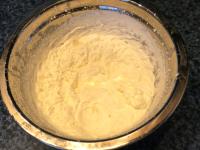 12.
Spread the whipped cream and even it on the dessert. Garnish with roasted and ground almonds. Let cool in the cold for at least 4 hours. You can cut portions approximately according to the size of the biscuits. However, they are soaked enough and slicing into any large portions is therefore possible.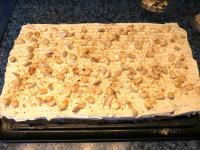 Bon appetit!