Caramel Maxi Profiterole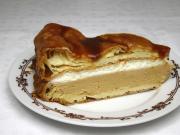 Do you love profiteroles but complicated preparation or past failures discourages you? Try our maxi profiterole and you will not regret. It tastes like traditional profiterole and we guarantee the success with this recipe :).
recipe,photo-recipe,sugar granulated,butterscotch pudding - powder,whipping cream (30-33% fat),Cream deserts
Cream deserts
Recipe
1.
water 2.1 cup (500 ml) • unsalted butter 5.5 oz (155 g)
Slightly heat water in a pot and melt butter in.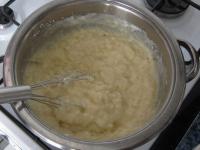 3.
Cook the dough on medium heat for 10 minutes - and stir constantly.
4.
chicken egg 6 pcs
Allow the dough to cool and start adding eggs, one by one, and stir.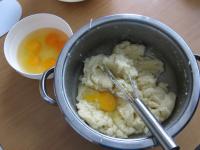 5.
Evenly spread one-half of the dough into silicone baking form with diameter 28 cm. Line other types of form with parchment paper.
6.
Bake in preheated oven at 390°F (200°C) for 30 minutes. Keep your oven door shut during baking!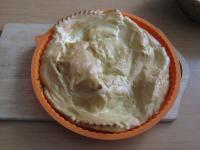 7.
Transfer the cold cake base upside down to platter. Spread second half of the dough into the cold baking form.
8.
Bake the same way as the first cake base and allow it to cool.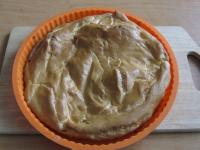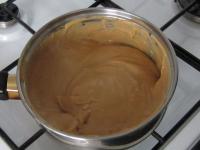 11.
Add butter to pudding and stir until smooth. Spread the cream over the prepared cake base placed on the platter.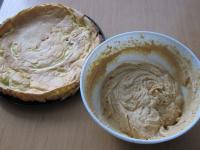 12.
whipping cream (30-33% fat) 1.7 cup (400 ml) • cream stabilizer 0.5 oz (15 g)
Whisk whipping cream and spread it over the cream. Transfer second cake base on top of the whipped cream, but not upside down anymore :).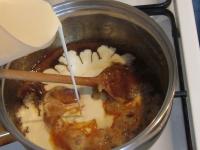 14.
Pour caramel on top of the profiterole and brush it on the sides, too.
15.
Place the profiterole in the refrigerator for at least 6 hours. Cut it into portions (we recommend to use a knife with serrated edge and at the beginninig, to cut the top cake base, knife with plain blade).
Bon appetit!