Orange dessert with caramel walnuts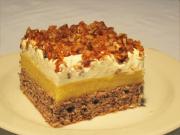 You will certainly love this creamy dessert with delicious whipped cream full of crispy walnut grilaz.
recipe,photo-recipe,orange juice,walnuts,walnuts,whipping cream (30-33% fat),Cream deserts
Cream deserts
Recipe
3.
egg white 8 pcs
Beat the egg whites until they are foamy.
4.
Stir walnuts in beaten egg yolks and in parts, by turns blend in flour...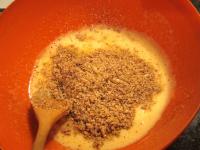 5.
...and egg white foam.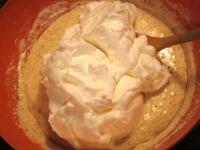 7.
Bake for 15 minutes at 180 °C.
8. Orange cream
orange juice 2.1 cup (500 ml)
Make juice from oranges.
11.
Pour it into juice and cook until dense.
12.
Spread hot cream on top of the cake base and flatten. Let it cool.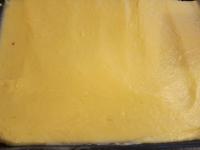 13. Crispy walnut grilaz
sugar granulated 7 oz (200 g) • honey 2.75 oz (75 g) • walnuts 5.25 oz (150 g)
Caramelize sugar and stir in honey. Use a food processor and chop the walnuts coarsely.
15.
Pour the hot mixture on aluminium foil brushed with butter and let it stiffen.
16.
Unstick the stiff hard grilaz from aluminium foil and chop it into pieces on wooden board.
17.
whipping cream (30-33% fat) 3.2 cup (750 ml) • cream stabilizer 0.75 oz (24 g)
Beat whipping cream with stabilizer and spread it on the orange cream. Sprinkle with grilaz, cut into big squares (approx 10x10 cm) and serve.
Bon appetit!