Cheesecake with Blueberry Whipped Cream
Recipe for famous cheesecake made special by fruit whipped cream. Cheesecake is prepared in a small tart form with diameter 20 cm, for more people we recommend to use bigger form and duplicate volumes of ingredients.
recipe,photo-recipe,mascarpone,compote juice,whipping cream (30-33% fat),Cream deserts
Cream deserts
Recipe
1. Cake base preparation
butter biscuits 5.25 oz (150 g) • unsalted butter 2.75 oz (75 g)
Crumble the biscuits in a food processor or use a rolling pin to crumble them. Mix them with softened butter. Prepare homogenous mixture and press it into the bottom of the baking form (diameter about 20 cm) greased with butter.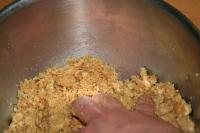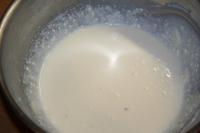 3.
Pour the filling into the form on top of the biscuit cake base.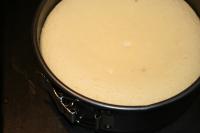 4.
Bake in preheated oven at high heat for 10 minutes, then turn the heat down to the lowest heat and bake for 50 - 60 minutes. Once the cheesecake is done, it will be semi-liquid in the centre, but it becomes stiff once the cake is cold. Allow it to cool at room temperature and the place it in the refrigerator.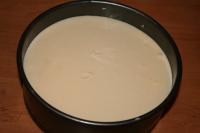 6.
Spread the fruit whipped cream on the baked and cold cheesecake.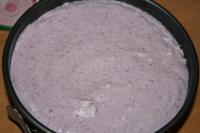 7.
Sprinkle the surface with grated white chocolate and let in cool. Well cooled cake is ready to serve.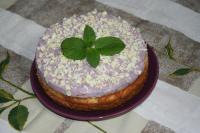 Bon appetit!