Chestnut loaves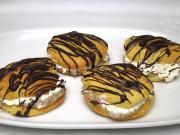 Crispy loaves filled with chestnut cream and whipped cream, flavoured with plain chocolate on top ... what else to add .. .yum yum.
recipe,photo-recipe,whipping cream (30-33% fat),chestnut puree,Chocolate 85%,Cream deserts
Cream deserts
Recipe
5. Loaf cakes
water ¾ cup (190 ml) • unsalted butter 1.5 oz (40 g) • salt
Put in a pot water, butter and a pinch of salt and cook it over low heat until the butter is melted.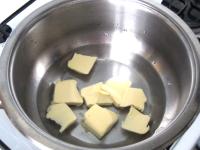 7.
Turn the heat on a little and carefully stir the prepared dough for 3 minutes. Allow it to cool.
8.
chicken egg 3 pcs
Gradually stir eggs in the cold dough.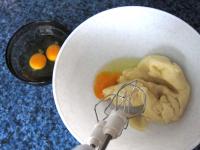 9.
Fill decorating bag with the dough. Draw 10 circles (with diamater about 8 cm) on the parchment paper.
10.
Fill circles on paper with the dough, but leave some space around the edges.
11.
Bake at 390°F (200°C) for 15 minutes, then turn the heat down to 355°F (180°C) and bake for 10 more minutes. Do not open the oven.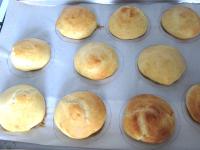 12.
Cut the hot loaves lengthwise and put them back in the oven and dry them for 10 - 15 minutes on remainder heat.
13.
Fill the bottom halves of the cool cake bases with chestnut cream ...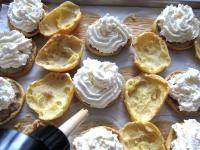 15.
Gently decorate the surface with melted plain chocolate. Place them in the refrigerator for at least one our before serving.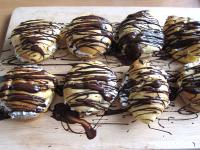 16.
one portion only? ... ha ha ha :-)
Bon appetit!