Punch Cake
delicious, home-made, tender, tasty, luscious, heavenly...simply a punch cake.
recipe,photo-recipe,raspberry syrup,raspberry syrup,rum,rum-raspberry flavor,Cream deserts,Lactose-Free
Cream deserts
Recipe
1. Preparing biscuit flan (corpus)
chicken egg 12 pcs • flour medium 12 tbsp • powdered sugar 12 tbsp • baking powder for gingerbread 0.75 oz (18 g)
We backe three biscuit corpuses. The biscuit dough is prepared by whisking 4 yolks with 4 table‑spoonfuls of powder sugar. In secong bowl we mix 4 table‑spoonfuls of flour with baking powder. We the egg whites until we get stiff peaks.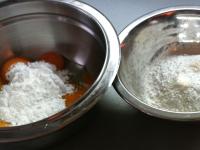 2.
To the bowl with whites we gradually whisk a flour with baking powder and the firm snow peaks. We pour the dough into a deep baking pan covered with a wax paper. We cook for about 15 minutes at 355°F (180°C). We prepare the other corpuses in the same way.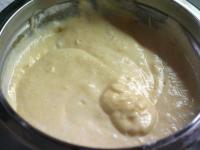 3.
apricot marmelade 2.1 cup (500 ml)
We cover two corpuses with softer homemade apricot jam.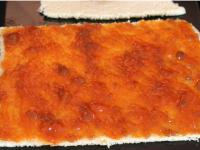 4. Preparing punch syrup
water 6.75 tbsp (100 ml) • raspberry syrup 1.7 cup (400 ml) • rum 6.75 tbsp (100 ml) • lemon-juice 3 tbsp • rum-raspberry flavor 1.5 tsp (8 ml)
We bring the water to the boiling point. We add lemon juice, rum, punch flavour and a raspberry syrup. It doesn´t have to be raspberry syrup, it can be any other syrup of red colour. We recommend to use a first-rate syrup. If the syrup is mopre or less sweet, we add a sugar into the mixture.
5.
The best way how to slowly fill the layer in the middle is by injecting the syrup.
6.
When the layer in middle absorbs enough amount of syrup, we put it on the layer bellow, covered with jam, and we put a layer up (covered with a jam).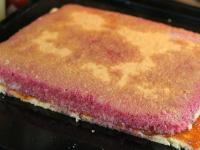 7. Sugar punch icing
raspberry syrup 1 tbsp
We bring the syrup to the boiling point.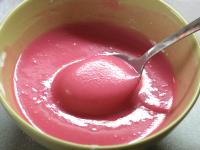 9.
We cover the whole cake with an icing.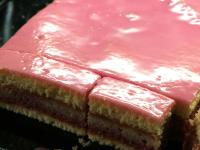 Bon appetit!