Rum Walnut-Cocoa Slice
.... or also Drunk Franciscan Friar, Drunk Izidor.... delicious cake with rich walnut filling and rum, suitable for adult party.
recipe,photo-recipe,ground walnuts,ground walnuts,rum,Cream deserts
Cream deserts
Recipe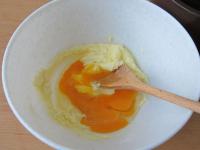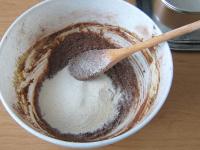 4.
egg white 3 pcs
At the end stir in, half at the time, stiff beaten egg whites.
5.
Fold the dough into the greased and floured baking dish (25x25 cm). Bake at 355°F (180°C) for about 12 minutes. Then let the base cool down.
7.
currant jam 2 oz (60 g)
Spread savoury, the best red currant jam over the baked base. You can use also apricot jam. Some of the recipes present also placing sterilised apricots over the base. If you decide to use apricots you definitely do not spoil it. The cake will be higher and more delicate. We did not use them in our recipe.
8.
Spread walnut filling across the jam....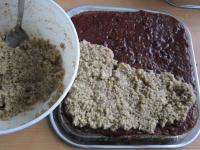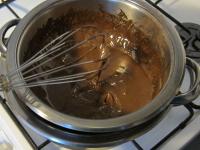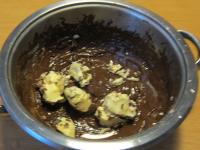 12.
Beat the smooth cream.
13.
Spread the cocoa cream over the walnut filling.
14.
Let it cool and place in fridge to chill and harden for about half and hour.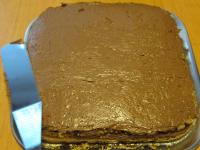 15. Chocolate topping
chocolate topping 3.5 oz (100 g)
Melt the chocolate topping and spread over the cake.
16.
When topping is partially firm, premark with knife into slices. Then let the cake until is firm for several hours (3-4) and then finish the slices.
17.
If topping hardens totally, cut the cake with knife which must be dipped in hot water after every slice, heat and wipe. During cutting do not push on the chocolate, let it loose under the hot knife.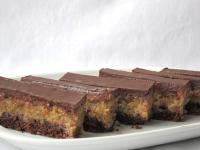 Bon appetit!