Chocolate and walnut fancy cakes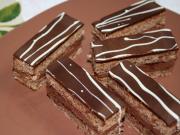 Delicious and easy dessert with walnuts filled with chocolate cream.
recipe,photo-recipe,ground walnuts,cherry jam,chocolate topping,Cream deserts
Cream deserts
Recipe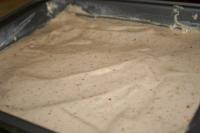 2.
Remove baked layers and spread jam on one of them, let them cool.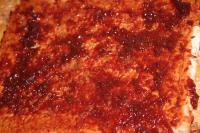 3. Cream preparation
semi skimmed milk 1,5% 1.3 cup (300 ml) • vanilla pudding - powder 1 oz (30 g)
Put aside part of the cold milk and heat the rest. Add to the cold part of milk cornstarch (Zlatý klas), stir it and pour to the boiling milk. Prepare dense gruel. Let it cool.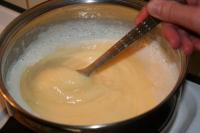 5. Filling, decorating
Spread cream on the bottom layer with jam, cover with the second layer. Use a little cream on top of the dessert, for flattening.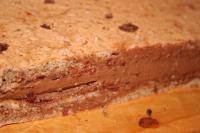 6.
Pour chocolate topping on the cool dessert. We can decorate it with white chocolate topping. Using a hot knife to cut will help to stop chocolate cracking.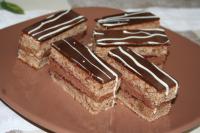 Bon appetit!