Creamy peach dessert
This delicious dessert is also known as Florida slices. Our recipe for their preparation is great and is guaranteed not to disappoint you.
recipe,photo-recipe,whole milk 3.5%,whole milk 3.5%,vanilla pudding - powder,sugar granulated,sugar granulated,rum,unsalted butter,peach compote,Chocolate 85%,Cream deserts
Cream deserts
Recipe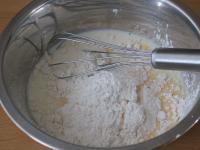 3.
Add pudding with flour and cook a thick porridge. Let it cool, stirring frequently. Prepare a base during cooling.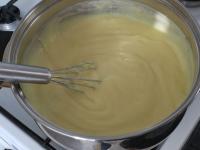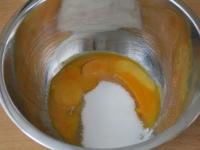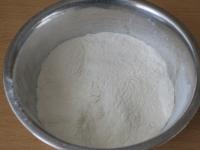 7.
water 4 tbsp • sunflower oil 2 tbsp
Add water, oil and alternately stir in flour and whipped egg whites into the whipped eggs.
8.
Spread the dough evenly on a baking sheet (22x32 cm) lined with baking paper.
9.
Bake for 12 minutes at 180 °C.
10.
rum 2 tbsp
Add rum into the lukewarm pudding.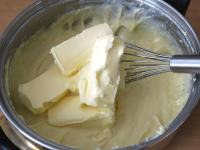 13.
apricot jam 1 tbsp
Remove baking paper from the baked base. Turn the baking paper over and place it in the baking sheet, in that the base was baked. Spread jam and half of the filling.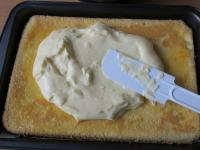 14.
Put the peaches on the first layer of the filling and spread the second part of the filling. Let it harden in the fridge for an hour.
16.
Fill a part of the whipped cream (about 2-3 tablespoons) into a pastry bag with a larger decorative end piece. Spread the rest of it on the filling. Put the dessert in the refrigerator and let it harden for another 2-3 hours.
17.
Grate the chocolate (suitable is a vegetable peeler).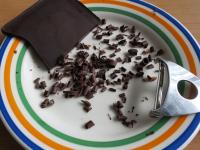 18.
Cut the dessert. Sprinkle with the prepared chocolate.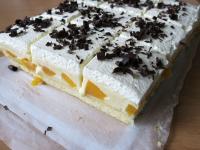 19.
Garnish with the tips of whipped cream.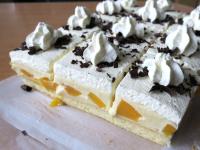 Bon appetit!