Egg cognac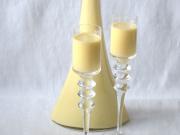 This is how my father called this favorite egg liqueur. I am offering you his delicious recipe that's been made at Christmas time for ages. I am glad that I took note of it at 25.12.1984 :) based on my cookbook :)
recipe,photo-recipe,whole milk 3.5%,whole milk 3.5%,sweetened condensed milk,rum,Liqueurs,Christmas,Gluten-Free
Liqueurs
Recipe
1.
whole milk 3.5% 2.1 cup (500 ml) • sugar granulated 10.5 oz (300 g) • vanilla sugar 2 pk
Pour water in a large pot and put in smaller pot so that the smaller one is dipped in the water - we are cooking in water bath. Pour milk in the inner pot, add sugar and vanilla sugar. "Cook" milk - heat it until almost brought to boil so that the sugar becomes melted.
2.
chicken egg 10 pcs • whole milk 3.5% 6.75 tbsp (100 ml)
Break the eggs and separate egg yolks from whites. Place egg whites in the fridge and use them later to prepare meringues, egg white sticks or other delicacies. Stir egg yolks with milk well...
3.
... and pour them in the heated milk.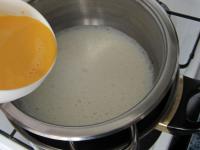 4.
Cook for about 10 minutes while stirring constantly. Egg yolks become dense and creamy.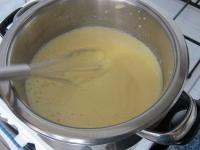 5.
sweetened condensed milk 14 oz (397 g)
Meantime run cold water in the sink and transfer there pot with egg yolks cream. Stir it and pour in content of the can - sweetened condensed milk. Then stir just occasionally until content of the pot becomes cool.
6.
rum 1.3 cup (300 ml)
At the end pour in the cool mixture approx. 40% alcohol. My father used to pour in ordinary rum. And when we had no rum, vodka was a great alternative :). You can even use white rum.
7.
Once the alcohol is added, mix it all well and pour the prepared eggnog into the bottles. If you did not separate egg whites from yolks well and while you were cooking small pieces of egg whites were in the milk, then sift eggnog when pouring it into the bottles. Store in the cold place. From the mentioned amount of ingredients you cook for about 1 200 ml of this liquid delicacy.
Bon appetit!