Sheep cheese pies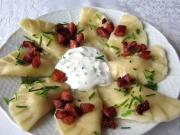 Favourite traditional Slovak pies with sour cream and bacon. We serve it according to taste sprinkled by chopping chive, chopped dill or fried bulb.
recipe,photo-recipe,flour medium,sheep cheese - bryndza,Pasta
Pasta
Recipe
1.
potatoes 14 oz (400 g)
We cook the potatoes in the peel (the best the day before). We peel them cooled and grate finely. From the said quantity after the peeling and grating remain us 300 g cleaned potatoes. We divide them on the half.
2. Dough for the pies
flour medium 1.5 lb (700 g) • water 1.3 cup (300 ml)
One half of the prepared potatoes (150 g) we put into the in-depth bucket, add the flour and water. We knead the solid, compact dough.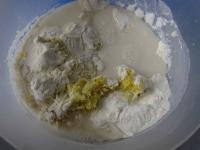 3.
We transfer the dough on the worktop, we mingle it again and divide it for three loaves. Each loaf we knead separately on the worktop. We cover the loaves by clean kitchen towel and let it 20 minutes rest.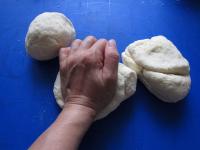 4. Sheep cheese stuffing to the pies
unsalted butter 1.75 oz (50 g) • sheep cheese - bryndza 8.75 oz (250 g)
The second half of prepared potatoes (150 g) we knead with butter and sheep cheese.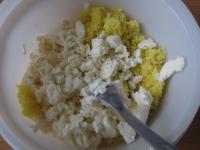 5. Bacon scratchings
bacon 14 oz (400 g)
We slice the bacon for smaller cubes and by often shuffle we fry the scratchings.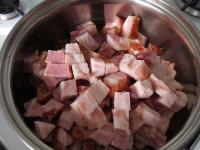 6.
all-purpose flour / plain flour
We thinly (2 mm) roll the dough loaf on the floured plate. The dough is fixed, but also flexible and supple, it´s a good work with it. By the mold for pies we cut out the rings.
7.
In the middle of each ring we put the part of stuffling - seemly to the size of the ring. We put the ring into the mold for pies and we create the pie. We can create the pie also from the ring which we cut out by mug - we push the edge with a fork.
8. Cooking pies
water 3.7 quart (3500 ml) • salt 2 tsp • sunflower oil 2 tbsp
In the big pot we let boil water with salt and oil. Into the boiling water we throw the first processed pies (from one loaf we have about 18 pies). After the throwing the last pies we set the timer and we cook the pies 6 minutes in the boiling water.
9.
We collect the cooked pies to the colander and we quickly flush them with warmish water.
10.
pork lard 2 tsp
We put in the bowl drained pies and we add the fat which melts away by warm from the pies. We process the other dough and next cooked pies we add to the first. By the soft shaking of the closed bucket we shuffle and lard them. According to tradition, until the serving we put them to the bedding in the closed bucket.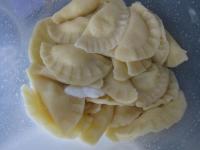 Bon appetit!