Bryndza (Slovak sheep cheese) Dumplings
Traditional Slovak meal with unique flavour, high energy value and positive effect on the gastrointestinal tract.
recipe,photo-recipe,potatoes,sheep cheese - bryndza,Pasta,Slovak cuisine,Seasonal recipes
Pasta
Slovak cuisine
Recipe
1. Preparation of batter for the potato dumplings
potatoes 1.8 lb (800 g) • salt 0.25 tsp • meal 7 oz (200 g) • water
Peel potatoes, grate them, add flour, salt, and enough water so that the batter is slightly runny. Stir well. Let the batter rest for 20 minutes, then stir again.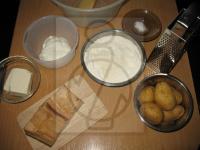 2. Cooking of dumplings
Use a special sieve to make dumplings or cut the batter from the wooden board. Cook 8 minutes in salted water.
3.
Strain the dumplings and rinse them under warmish water.
5. Serving
smoked bacon 7 oz (200 g)
Cut smoked bacon into cubes and render it. Sprinkle portion of bryndza dumplings with scratchings and lightly pour over with warm gravy.
Bon appetit!