Beef cubes in cream sauce with carrots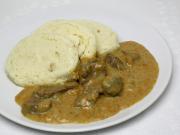 Soft beef in a delicious sauce, served with steamed dumplings. You have to try it!
recipe,photo-recipe,carrots,beef meat,cream (fat 10-12%),Beef,Meat,Seasonal recipes
Beef
Recipe
2.
carrots 7 oz (200 g)
Clean the carrots, wash, grate them roughly ...
3.
... add to the onion with bay leaf. Stir and simmer for a while. You can add a tablespoon of water.
4.
beef meat 1.3 lb (600 g)
Wash the meat, cut ...
5.
salt 1 tsp
... add to the vegetable, mix and salt.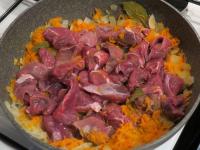 6.
water 1.3 cup (300 ml) • vinegar 1 tbsp
Add water, vinegar and, stirring from time to time, cook under the cover until the meat is softened (approximately more than an hour).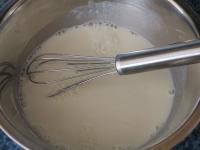 8.
... and pour over the meat. Cook for a short time, salt and serve.
Bon appetit!