Sweet Sour Bean Soup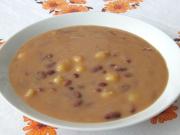 recipe,photo-recipe,kidney beans red,potatoes,sweet cream for cooking,Legume soups,Slovak cuisine,Seasonal recipes
Legume soups
Slovak cuisine
Recipe
1.
kidney beans red 8.75 oz (250 g) • water 1.6 quart (1500 ml)
Rinse the beans on the colander, put into the pressure pot, pour water in, close the pot, bring to boil and since the steam start to vent cook for 45 minutes. If you want to cook beans without pressure pot you must let it soak day before cooking.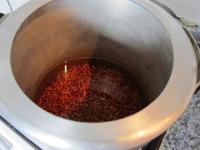 2.
potatoes 10.5 oz (300 g) • salt 1.5 tsp • sugar granulated 1 tbsp • water 2.1 cup (500 ml)
Peel the potatoes, cut into the small cubes and add into the cooked beans. Season with salt, sugar, add water and cook until potatoes softened.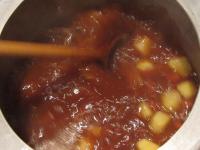 Bon appetit!