Cabbage and Beans Soup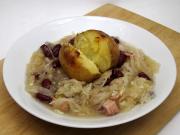 Original recipe for this ancient soup mentiones the preparation in kettle placed over the fire and baking potatoes in hot embers. We offer you easy preparation of this tasty and healthy soup in the modern cousin.
recipe,photo-recipe,potatoes,bacon,sauerkraut- finely chopped cabbage (fermented),kidney beans,Vegetable soup,Slovak cuisine,Gluten-Free,Seasonal recipes
Vegetable soup
Slovak cuisine
Recipe
1.
potatoes 4 pcs
Cook four pieces of medium-size potatoes in water for 10 minutes.
2.
Brush aluminium foil with oil, place there potatoes, cover them and bake in the oven at high heat directly on oven rack. Bake for about 30-45 minutes.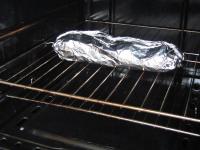 3.
pork lard 1.5 oz (40 g)
Melt lard in a pot.
4.
onion 5 oz (140 g) • bacon 5 oz (140 g)
Peel onion, chop it and add to the lard. Cook it and add chopped bacon. Cook onion together with bacon for a while.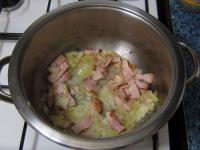 6.
kidney beans 8.75 oz (250 g)
Add strained canned beans and stir.
7.
At the end press in the soup clean garlic and season with salt to our taste.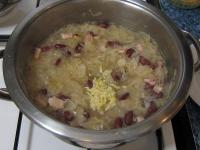 8.
Remove baked potatoes from oven.
9.
Use forks to tear the potato ...
10.
... and put it into soup. We can serve it also with a teaspoon of sour cream.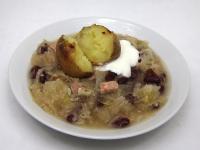 Bon appetit!