Potato Soup with Beans and Leek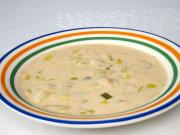 Tasty milk soup that gives you energy in chilly autumn and winter days.
recipe,photo-recipe,navy beans,potatoes,leek,Vegetable soup,,Seasonal recipes
Vegetable soup
Recipe
1.
navy beans 5.25 oz (150 g)
Soak beans in cold water overnight. Cook them on the next day until soft.
2.
potatoes 14 oz (400 g) • water 1.05 quart (1000 ml) • bay leaf 4 pcs • salt 1 tsp
Peel potatoes and cut them into small cubes. Cook them in water together with bay leaf and salt.
3.
Put strained cooked beans in the cooked potatoes.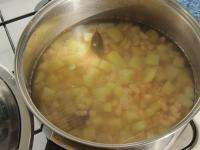 4.
leek 8.75 oz (250 g)
Wash leek and chop it finely.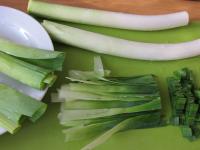 5.
Add it to potatoes with beans. Bring soup to the boil and cook for 5-8 minutes.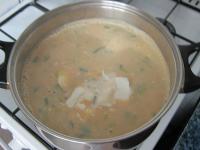 Bon appetit!