Roasted Smoked Pork Knuckle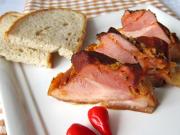 Favourite delicacy. Serve with chillies, mustard or horseradish. It is recommended to eat the pork leg with bread and drink down with a good cooled beer.
recipe,photo-recipe,boneless smoked pork knuckle,Pork,Gluten-Free,Lactose-Free
Pork
Recipe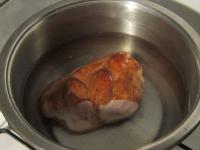 2.
garlic 6 cloves • ground red paprika 1 tsp • mineral water ¾ cup (200 ml)
Replace cooked leg in a deep baking dish, brush with pressed garlic, sprinkle with paprika, pour in a water and sharply roast covered.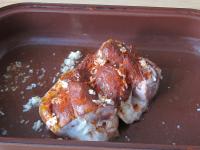 3.
Roast for about 20-30 minutes, from time to time uncover leg, pour the meat juice over, cover again and bake further. If the water in the baking dish during the baking has evaporated, add more water, so the leg will not burn.
Bon appetit!