Balkan Fire
Something for hot-dish lovers.
recipe,photo-recipe,pork thigh,pork lard,smoked bacon,sterilized letcho,mushrooms,Pork,,Gluten-Free,Lactose-Free
Pork
Recipe
1.
pork thigh 1.3 lb (600 g)
Remove any membranes from washed meat, cut into the larger noodles.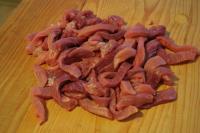 2.
pork lard 3.5 oz (100 g) • smoked bacon 2 oz (60 g) • onion 2.75 oz (80 g) • mushrooms 3.5 oz (100 g)
Chop the onion and mushrooms. In a larger skillet heat the oil and fry bacon cubes and onion there. Add salty and peppery meat and stirring constantly saute it.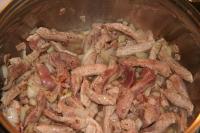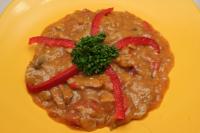 Bon appetit!