Grabs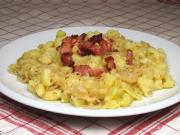 Traditional delicacy of our great grandmothers. This rich meal was part of menu mainly during winter time when potatoes and onion were stored in cellar, sauerkraut in wood, in a larder piece of good bacon from home slaughtering.
recipe,photo-recipe,potatoes,bacon,sauerkraut- finely chopped cabbage (fermented),Pork,Slovak cuisine,Lactose-Free
Pork
Slovak cuisine
Recipe
1.
potatoes 1.8 lb (800 g)
Wash half part of potatoes, cook them unpeeled and let it cool.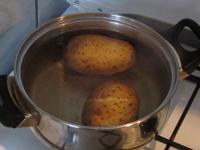 2.
Peel the other half of potatoes, wash and grate.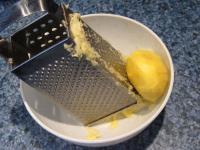 3.
flour medium 4.25 oz (120 g)
Add flour into the grated potatoes, mix well...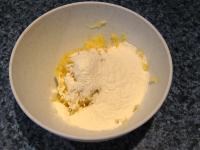 4.
...and cook dumplings in a hot salted water. Drain dumplings, quickly rinse with water and place into a deeper pot, cover it.
6.
onion 8.75 oz (250 g)
Peel the onion and cut. Remove fried bacon from the pot and toss onion into well-baked lard. Fry until golden.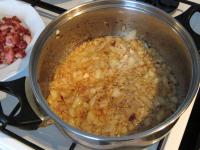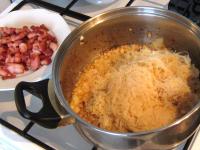 8.
Peel cooked potatoes and cut into the rings, eventually press through the disk suitable for potato salad preparation.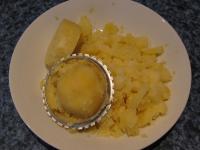 9.
Mix steamed sauerkraut with the dumplings...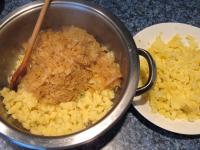 10.
... and blend in prepared potatoes.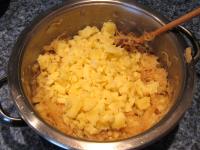 11.
Serve with fried bacon.
Bon appetit!