Granny's Grabs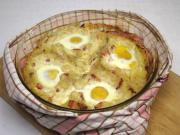 Tasty lunch from potatoes, sauerkraut, bacon and eggs, favourite mainly during the winter time.
recipe,photo-recipe,potatoes,bacon,sauerkraut- finely chopped cabbage (fermented),Pork,Gluten-Free,Lactose-Free,Seasonal recipes
Pork
Recipe
1.
potatoes 1.3 lb (600 g) • water 1.1 cup (250 ml) • salt 0.75 tsp
Cook potatoes in salted water until soft.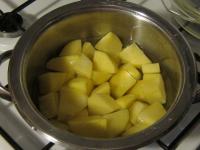 2.
Crush potatoes, in water where it was cooked, into a mash.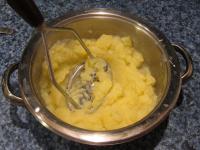 3.
bacon 5.25 oz (150 g)
Cut the bacon into the thin strips and fry it.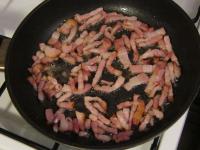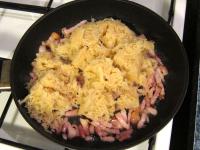 5.
Combine the sauerkraut and bacon with potatoes.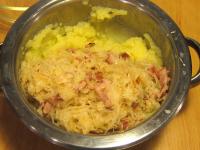 6.
Grease the roasting dish with lard. Place potato-sauerkraut mash into the dish in four dollops. In each dollop make a deeper hole.
7.
chicken egg 4 pcs • salt
Put raw egg into every hole. Slightly salt the eggs.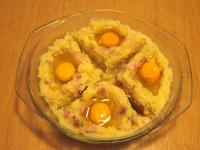 8.
Bake in closed roasting dish at 355°F (180°C) for about 30 minutes. The eggs must harden.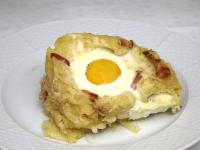 Bon appetit!