Oven-baked Mixed Potatoes
Rich potato lunch prepared per two days :) Serve with vegetable salads, or with a tartar sauce.
recipe,photo-recipe,potatoes,sausage,smoked pork ham,sour cream (fat 14-18%),Pork,Gluten-Free,Seasonal recipes
Pork
Recipe
1.
potatoes 3.1 lb (1400 g)
Cook potatoes in a water until have became semisoft. Discard the water, let the potatoes cool and peel them.
2.
chicken egg 4 pcs
Hard boil the eggs, cool and peel.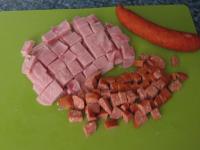 4.
onion 5.25 oz (150 g)
Peel the onion, cut and place in a deeper bowl. Add ham with sausage and blend well.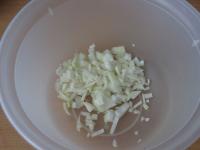 5.
Add potatoes and eggs pressed through the disc used for potato salad preparation.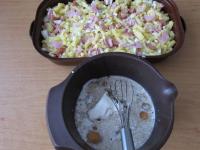 7.
Pour the sauce over the potato, cover and bake for 45 minutes.
8.
Gouda cheese 3.5 oz (100 g)
Uncover the potatoes, sprinkle with grated cheese...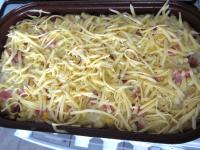 9.
....and bake for further 10 minutes.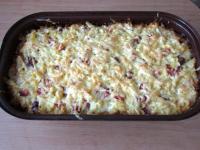 Bon appetit!