Baked potatoes with meat and vegetables
Juicy lunch from one pot.
recipe,photo-recipe,minced pork meat,sterilized tomatoes,potatoes,eggplant,Pork,Gluten-Free,Seasonal recipes
Pork
Recipe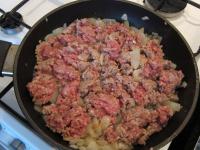 2.
sterilized tomatoes 14 oz (400 g)
Add chopped sterilized tomatoes with tomato infusion to the meat.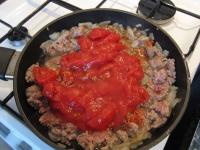 3.
potatoes 1.8 lb (800 g) • olive oil 30
Peel, wash and cut the potatoes into thin wheels. Spread half of the potatoes on the bottom of a baking dish (30x20 cm) spreaded with oil.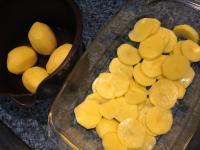 4.
Wash the eggplant and cut it into thin wheels. Spread half over the potatoes. Salt.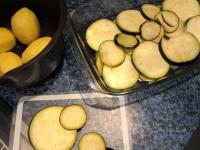 5.
Spread the prepared meat on the eggplant.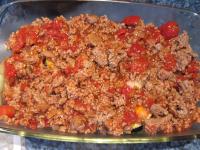 6.
Cover the meat with the other half of the eggplant and potatoes. Cover the baking dish and bake in a preheated oven for 30 minutes.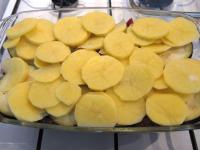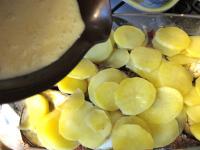 8.
Emmental cheese 4.25 oz (120 g)
Grate the cheese coarsely and sprinkle over the potatoes. Cover the baking dish and let bake for another 30 minutes.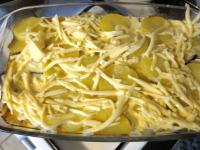 9.
Uncover after mentioned time and let bake for 10 minutes. Cut after it has cooled to serving temperature.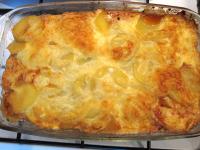 Bon appetit!