Kettle goulash
Approx. 8 liters of delicious meat goulash prepared in 16 liters enamel kettle on burning pine wood. Number of portions is directly proportional to hunger and need of "one more portion" for all the participating cooks and assistants.
recipe,photo-recipe,onion,beaf shank,pork shoulder,Beef,Hungarian cuisine,Gluten-Free
Beef
Hungarian cuisine
Recipe
1. 10 a.m. Preparation of onion - as much onion as it is meat
onion 4.4 lb (2000 g)
Peel, chop the onion and clean your tear ducts.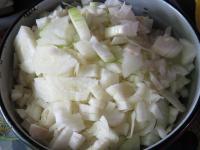 2. Preparation of meat - as much onion as it is meat
beaf shank 3.3 lb (1500 g)
Cleanse beef, cut the fat off and cut it into cubes.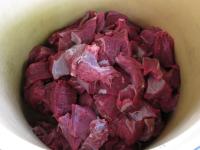 3. Not enough meat yet
pork shoulder 1.1 lb (500 g)
Cleanse pork, cut the very fat parts off and cut it into cubes.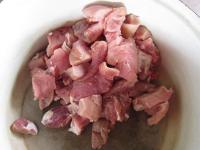 4. Before we start to work in the kettle itself: Preparation of potatoes, paprika, garlic, spice mixes, etc.
potatoes 1.1 lb (500 g) • paprika 1.1 lb (500 g) • garlic 4 cloves
Peel the potatoes, wash them and dip the whole potatoes in the water. Wash paprika, clean it and cut into strips. Peel the garlic. Have spice mixes and water at your fingertips, so that you don't have to run needlessly away from fire, wooden spoon, kettle, beer, vine, rum, borovicka...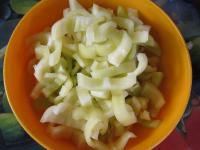 5. 11 a.m. We start to cook
pork lard 12.25 oz (350 g) • salt 4 tsp
Start a fire in fireplace, let the wood burn so that it generates glowing embers. Hang the kettle over the fire, put fat in and let it melt. Add onion and cook it for 30 minutes over the medium heat while stirring occasionally. Season with salt.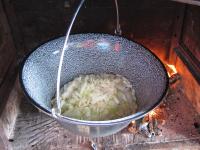 6. 11:30 a.m. Add beef
ground black pepper 1 tsp • water 3.15 quart (3000 ml)
Take the kettle with onion from fire and ask one of the assistants to pour you a beer and pass the prepared beef. Put beef to the kettle with onion and bring it back over the maintained medium fire and let the meat pull. Add spices and pour water in. Cook covered for 45 minutes, stirring occasionally.
7. 12:15 p.m. Add pork
Take the kettle from fire, add pork. Cook the meats together covered for 30 minutes.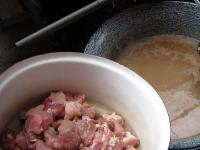 8. 12:45 p.m. Grate potatoes
Take the kettle from fire and coarsely grate the prepared potatoes in. Cook everything together for the next 30 minutes, stir frequently to prevent goulash from burning. Simultaneously fill the liquid in your own personal kettle, because working at fire can be very tiring and might cause dehydration.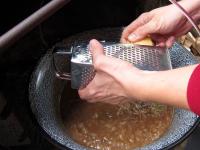 9. 1:15 p.m. Cooking is coming to the end - the last ingredients
tomato paste 3.5 oz (100 g) • ground red paprika 3 tsp • hot pepper paste 1.75 oz (50 g) • crushed cumin 1 tsp • whole Mustard 2 tsp • marjoram 1 tbsp
Put in the kettle prepared chopped paprika, pressed garlic, tomato paste, ground red pepper, spicy goulash pasta, crushed cumin, whole mustard, marjoram... to your taste and mood, perhaps even unconventional ingredients like strawberries or piece of cake... Cook for approx. 45 minutes at medium fire while stirring frequently.
10. 2 p.m. Let's go to eat
Bon appetit !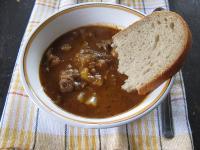 Bon appetit!