Baked stuffed cabbage rolls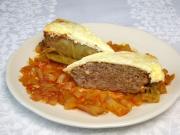 Stuffed cabbage rolls are delicious full lunch. Baked with cheese coating are specially tasty.
recipe,photo-recipe,white cabbage,minced pork meat,tomato paste,semi-hard cheese with 45% fat,Pork,Gluten-Free,Seasonal recipes
Pork
Recipe
1.
onion 7 oz (200 g) • sunflower oil 3.25 tbsp (50 ml)
Peel onion, chop it finely and fry in oil.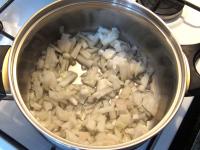 3.
Pour it over with boiling water about 1,5 cm above the rice. Braise covered. Let it cool.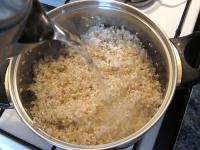 5.
Wash the cabbage, score around the cabbage core and gradually remove 10 leaves. Cover the leaves with boiling water. Take them out, let them cool and slice off any thick parts of the vein on each leaf. Chop the rest of the cabbage.
6.
Equally divide meat and rice filling into the leaves and roll them up.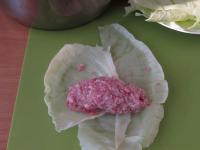 7.
Pour half of the cabbage into a large baking tin. Place the rolls.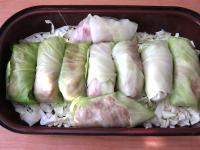 8.
tomato paste 2.1 cup (500 ml) • water 2.1 cup (500 ml) • sugar granulated 1 oz (25 g) • salt 1 tsp • ground caraway 0.5 tsp
Pour second half of the cabbage on top and pour it over with tomato paste mixed with water, sugar, salt and ground caraway. Cover the baking tin and bake in preheated oven at 180-390°F (200°C) for about one hour.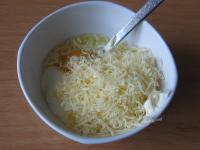 10.
Uncover the baking tin and spread the cheese mixture on top of the rolls. Bake. Score the baked layer around the leaves and we can serve. Great side dish to this meal is bread or potatoes. Cabbage is delicious even on second or third day, so we can cook large amount :). Store in the cold place.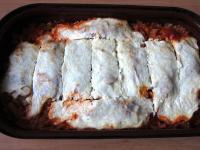 Bon appetit!