Pizza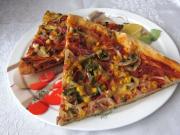 Excellent pizza with dough recommended by Italian cook.
recipe,photo-recipe,all-purpose flour / plain flour,tomato paste,ham,mushrooms,Non-sweet pastry,Pizza,Italian cuisine
Non-sweet pastry
Italian cuisine
Recipe
2.
sunflower oil • garlic • tomato paste 1.1 lb (500 g)
Divide the dough into 4 pieces. Brush the baking tin with oil, stretch one part of the dough until thin and use a rolling pin to spread it on the baking tin. Or we can use a rolling pin to spread the dough on floured board and transfer it to the baking tin lined with parchment paper. Brush it with pressed garlic and tomato paste.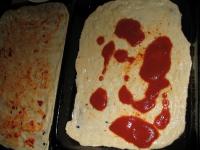 3.
ham • sardines in oil • corn sterilized • frozen vegetables (carrots, peas, corn) • mushrooms • onion • semi-hard cheese with 45% fat • oregano
Place various ingredients on pizza depending on what kind of pizza you want (ham, fish, sweet corn, vegetables, mushroom, onion,...), sprinkle it with cheese, oregano and bake in preheated oven at 390°F (200°C) for about 20 - 25 minutes.
4.
Cut pizza into triangles and serve warm.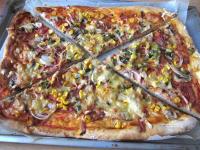 Bon appetit!