Lasagne with fine bechamel
Recipe for preparation of typical Italian dish with prepared bechamel.
recipe,photo-recipe,minced pork meat,tomato paste,Pasta,Italian cuisine
Pasta
Italian cuisine
Recipe
1. Ragout
onion 1 pc
Fry finely cutted onion in oil.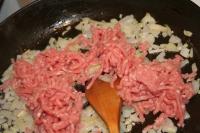 3.
tomato paste 2.1 cup (500 ml) • garlic 1 pc • oregano 0.25 tsp • basil dried 0.5 tsp
Add tomato puree and simmer for about 15-20 minutes. Add oregano, basil and crushed clove of garlic.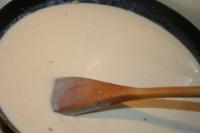 5. Layer
pasta - Lasagna 10.5 oz (300 g)
Divide ragout, bechamel and lasagne into 4 parts. Place slices of lasagne on the bottom of the baking dish (the amount of ingredients for this step shows the amount of lasagne for the whole baking) ..
6.
Pour a portion of the ragout on the lasagne.
7.
Put a portion of bechamel evenly on the ragout.
8.
Repeat this step three more times.
9.
semi-hard cheese 5.25 oz (150 g)
When the 4 times pasta - meat mixture - bechamel is layered , sprinkle with grated cheese and bake for about 40 minutes at 340°F (170°C).
Bon appetit!