Puff Pastry Turkey Roll
Easy, quick and delicious lunch. Served with mashed potatoes or some other side dish from potatoes.
recipe,photo-recipe,turkey breast,puff pastry,ham,mozzarella cheese,Turkey
Turkey
Recipe
1.
turkey breast 10.5 oz (300 g)
Wash turkey breasts, cut them into cutlets and pound them until thin.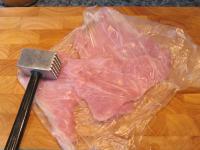 2.
puff pastry 9.75 oz (275 g)
Unroll the puff pastry and leave on the baking sheet provided...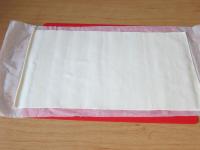 3.
ham 3.5 oz (100 g)
...and lay slices of ham.
4.
Place the prepared turkey in the centre, slightly season with salt and ground black pepper.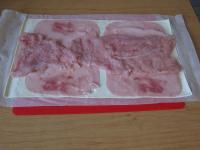 6.
Score the edges of puff pastry with ham and gradually fold one part over the other to cover the meat and cheese.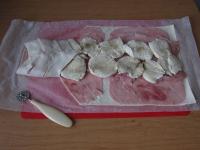 7.
chicken egg 1 pc • salt • oregano
Transfer the roll with the baking sheet in the baking tin. Brush it with beaten egg, season with salt and sprinkle with oregano. Mozzarella contains lots of water so it might partially melt out the sides of the roll.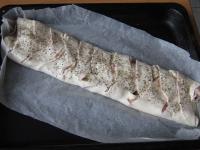 8.
Bake for 40 minutes at 180 °C.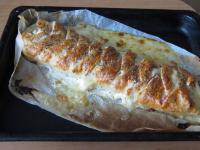 Bon appetit!