Stuffed Baguette with Slovak Sheep Cheese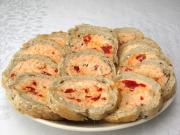 Tasty party baguette rings.
recipe,photo-recipe,whole grain baguette,sheep cheese - bryndza,Apetizers
Apetizers
Recipe
1.
whole grain baguette 5 oz (140 g)
Cut off both edges of thicker smaller baguette. Carefully remove the center of the baguette.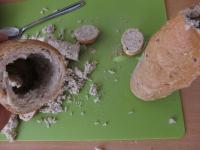 2. Filling for the 16cm piece of baguette
onion 0.75 oz (20 g) • unsalted butter 1.5 oz (40 g) • ground caraway 0.25 tsp
Peel the onion and finely chop. Add in soften butter and caraway. Whisk it.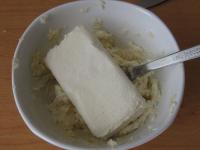 5.
Fill the baguette and wrap into the aluminium foil. Place in fridge for 24 hours.
6.
Before serving cut into cca 8 - 10 mm rings.
Bon appetit!