Honey caramels
Sweet candies for the real sugar lovers.
recipe,photo-recipe,honey ,sugar granulated,Confectionery,Christmas,No-Bake,Gluten-Free
Confectionery
Recipe
2.
Slowly heat content of the pan and when it starts to boil, cook it for 20 more minutes.
3.
Set aside and stir for about 20 minutes until the mixture starts to stiffen.
4.
sunflower oil 1 tsp
Take two layers of aluminium foil and shape rectangle out of it in the size of approx. 20x15cm. Sprinkle with oil and pour the semiliquid mixture in.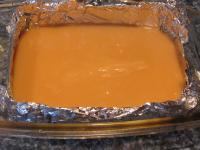 5.
When almost cool, cut it into small candies. Let them cool completely and wrap each one in the cellophane. Store in the cold place.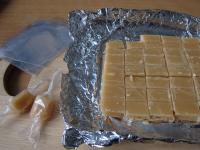 Bon appetit!