Meringues with Whipped Cream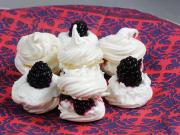 Time-consuming delicacy - but gone immediately. One baking tin won't be enough :) so just in case, prepare the cake bases (rounds and meringues) as a reserve.
recipe,photo-recipe,egg white,sugar granulated,whipping cream (30-33% fat),mascarpone,Biscuits,Gluten-Free
Biscuits
Recipe
2.
Fill a decorating bag with the egg whites mixture.
3.
Grease baking tin with butter and pipe the meringues and circles of the mixture. We have to pipe the same amount of meringues and circles. Bake at 210°F (100°C) for about 90 minutes. Leave the oven door closed, leave the content cool together with oven (for about 2 hours).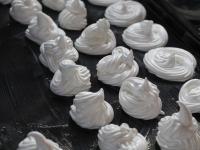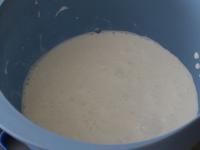 6.
Fill decorating bag with the filling and pipe the cream on the circles. Place meringue on top of the cream. We can put blackberry in the cream, or some other small fruit. Or we can use small fruits for decorating the meringue. Consume as soon as possible after the filling is finished.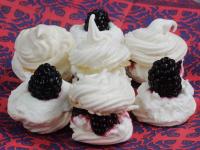 Bon appetit!