Grilled marinated tofu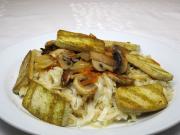 Tofu marinated in a easy preepared marinade, roasted on a grill pan with carrots, mushrooms, bamboo sprouts and rice noodles.
recipe,photo-recipe,white tofu,a mixture of dried Chinese mushrooms,carrots,mushrooms,bamboo pickled,Vegetarian dishes,Gluten-Free,Lactose-Free
Vegetarian dishes
Recipe
2.
soy sauce 1 tbsp • sesame oil 1 tbsp • pumpkin oil 1 tbsp • olive oil 1 tbsp
Put the second half of the tofu on the first layer and drizzle with sauce and oils again. Cover and let marinate until the next day.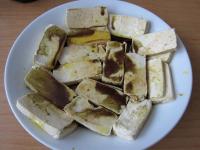 3. Grilling
Heat the grill pan and place the tofu slices on it. Grill from both sides until brown.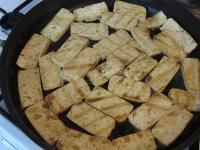 4. Preparation of vegetables
a mixture of dried Chinese mushrooms 0.75 oz (20 g) • carrots 8.75 oz (250 g) • olive oil 2 tbsp
Wash the dried mushrooms and soak them in water. Clean, wash and grate carrot coarsely. Take the tofu out of the pan and put the carrots and drained mushrooms in it. Drizzle with oil and cover. Simmer for 5 minutes.
5.
mushrooms 10.5 oz (300 g)
Wash and cut the champignons into slices, add them to the carrots and then simmer together under the cover for 5 minutes.
7.
bamboo pickled 5.25 oz (150 g)
...pour over vegetables with mushrooms, add drained bamboo shoots, mix and cook for 5 minutes.
8.
Put the tofu on top of the vegetables and let warm up together under the cover.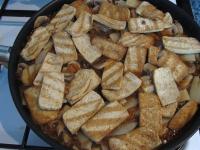 9. Preparation of rice noodles
rice noodles 10.5 oz (300 g)
Put the noodles in a deep pot and cover with cold water. Let rest for 10 minutes.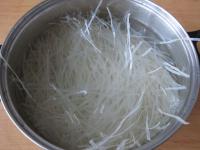 10.
Drain the cold water, add salt and boiling water. Let rest for two minutes, drain and rinse with cold water so they don't stick together.
11.
sunflower oil 2 tbsp
The softened noodles can be quickly fried in a wok ( for 2 minutes) with a little oil.
Bon appetit!