Pickled pears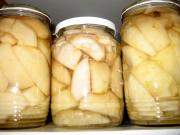 recipe,photo-recipe,pear,Preserves,Gluten-Free,Lactose-Free
Preserves
Recipe
1.
We use hard pears for canning. Wash them and peel them with potato peeler.
2.
water • citric acid • vinegar
Chop pears into fourths, smaller pear can be cut in half. Remove core, remnants of the inner calyx and stem residues. Put pears into cold water in which we dissolved citric acid in a ratio of 1 teaspoon per 3 liters of water. We also ask them to slightly acid water. Thus we preserve pears'color and they won't turn black.
3.
Put a slice of lemon at the bottom of the jar, add pears (they should be as close as possible). The last layer should be 5 to 10 mm below jar. Instead of lemon you can use slice of a grapefruit - pears get pleasant sour - bitter taste.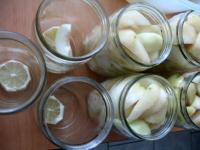 4.
water • sugar granulated • whole cloves
Pour brine made of water and sugar onto pears. We need 650g of sugar for 1 liter of water. The brine should be a few millimeters above the surface of the pears. Add 2-3 cloves into each jar. Close the jar and sterilize it at a temperature of about 195°F (90°C) C for 20-30 minutes.
5.
Jar with volume of 720 ml can hold approximately 470 g peeled pears and 210 ml of brine.
Bon appetit!