Preserved spicy cucumbers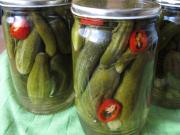 Spicy cucumbers in sweet and sour pickle. From the mentioned amount of 5-8 cm cucumbers, you will cook 7 pieces of 7 decilitre preserving jars.
recipe,photo-recipe,pickled cucumber (gherkin),dill,sheep horn shaped peppers,Preserves,Gluten-Free,Lactose-Free
Preserves
Recipe
2.
Wash the cucumbers well under running water.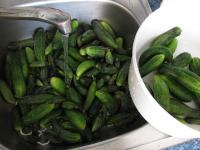 3.
dill • sheep horn shaped peppers 3.5 oz (100 g)
Prepare and wash smaller bunch of dill and pepers. Cut the peppers into wheels about 0,5 cm wide.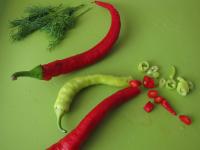 4.
Put cucumbers as tightly as possible in clean jars, in some layers put peppers. Place longer cucumbers on the bottom of the glass, shorter ones on top.
5.
Cover the cucumbers in the jars with the cooled pickle using a ladle. Pour the pickle about 1 cm below the edge of the jars.
6.
Close the bottles with clean preserving lids (according to the type of jar)...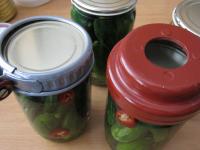 7.
...if necessary, pass the blunt side of a knife over surface on the edge so that they stick better.
8.
Sterilize in a sterilization pot at a temperature of 385°F (195°C)F (195°F (90°C)) for 5 minutes. Carefully remove the hot glasses from the pot, wrap them in a blanket and let them cool in the blanket.
Bon appetit!