Grenadier March
Excellent easy grenadier or grenadier march, or simply pasta with potatoes. For its preparation we can use cooked potatoes or pasta remaining from preparation of other meal or we can cook them fresh.
recipe,photo-recipe,potatoes,pasta - patches,ground red paprika,Vegetarian dishes,Lactose-Free
Vegetarian dishes
Recipe
1. Preparation of potatoes
potatoes 2.6 lb (1200 g) • salt • water
Peel the potatoes, cut into smaller cubes and cook in salted water. Discard the water.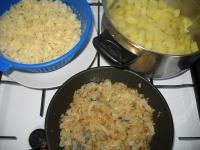 2. Preparation of pasta
pasta - patches 14 oz (400 g) • salt • water
Cook pasta - snails, fusilli, broad noodles and alike in salty water.
3. Preparation of onion
onion 10.5 oz (300 g) • salt 1 tsp • ground red paprika 2 tsp • sunflower oil 4 tbsp
Peel the onion, cut into the small chunks and fry in oil. After frying set aside from the heat and add salt and ground hungarian red paprika. Mix potatoes with pasta, stir in paprika onion. Blend mixture properly but lightly not to break the potatoes.
4. Serve 1.
We can serve grenadier made this way directly, hot, with sour sterilised vegetable.
5. Oven-roasting
Put the grenadier into deeper roasting pan and roast in oven on the middle rack position for about 30 minutes.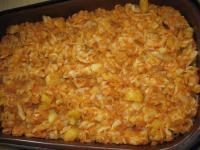 6. Serve 2.
Serve oven-roasted grenadier with sterilised sour gherkins.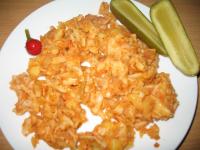 Bon appetit!