Pasta Oven-baked with Aubergine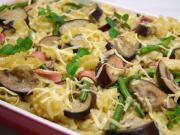 Simple recipe for oven-baked pasta with aubergine, mushrooms, ham and green beens.
recipe,photo-recipe,Gomito macaroni pasta,mushrooms,eggplant,whipping cream (30-33% fat),semi-hard cheese,Pasta
Pasta
Recipe
1.
Gomito macaroni pasta 14 oz (400 g)
Cook pasta in a salted water. Meanwhile pasta is cooking, prepare the sauce.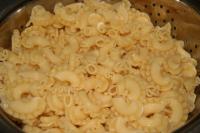 2.
mushrooms 12.25 oz (350 g)
Place a little oil into a deeper skillet, add washed and chopped mushrooms and fry for a while.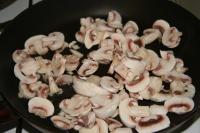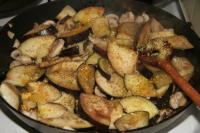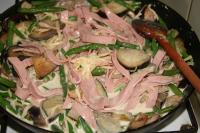 5.
Spread cooked pasta into the baking dish and pour prepared mixture over.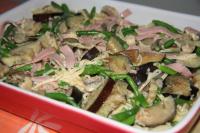 6.
chicken egg 1 pc • semi skimmed milk 1,5% 6.75 tbsp (100 ml)
Finally pour egg beaten with milk over the pasta. Place in preheated oven and bake for about 15 minutes. Just before finishing baking take it out of the oven and sprinkle with remaining cheese.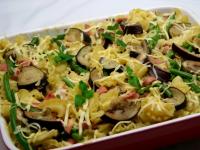 Bon appetit!