Reverse cabbage
Cabbage and potato pie with bacon and smoked meat.
recipe,photo-recipe,bacon,sauerkraut- finely chopped cabbage (fermented),potatoes,smoked meat,Pork
Pork
Recipe
1.
bacon 5.25 oz (150 g) • onion 2.75 oz (80 g) • sugar granulated 1 tbsp • vinegar 1 tbsp • sauerkraut- finely chopped cabbage (fermented) 1.1 lb (500 g) • salt 0.5 tsp • ground black pepper 0.5 tsp • crushed cumin 0.5 tsp • garlic 4 cloves
Cut bacon into strips and fry. Peel the onion, chop it finely and add to the bacon. Roast for a while, sprinkle with sugar and pour in vinegar. Once the vinegar evaporates, add a little rinsed sauerkraut (depending on how sour you want your meal). If the cabbage it too long, cut in into small pieces. Add salt, ground black pepper, crushed cumin and pressed garlic. Mix to combine and braise covered for a while.
2.
potatoes 10.5 oz (300 g) • smoked meat 7 oz (200 g)
Peel the potatoes, cut them into small cubes and precook them in a little water for 5 minutes (parboil them). Cook smoked meat until soft and cut it into cubes - in case you are in hurry, you can use already cooked cubes from smoked meat. Mix potatoes and meat with the cabbage.
3.
unsalted butter • breadcrumbs • sweet cream for cooking 1.1 cup (250 ml) • chicken egg 2 pcs • salt 0.5 tsp
Grease fireproof pot with butter, sprinkle with breadcrumbs and place prepared mixture in. Pour it over with sweet cream for cooking mixed with eggs and salt. Prick the cabbage with fork, so that the cream comes through easily.
4.
Sprinkle the surface with breadcrumbs. Cover the baking pot and bake in preheated oven for 45 minutes at 355°F (180°C). Once it it baked, let it cool a bit, then transfer it to serving dish and decorate with chopped parsley leaves.
5.
Cut the cabbage into triangles and serve with fresh and fragrant bread.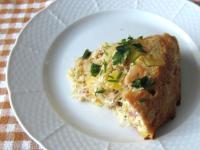 Bon appetit!