Dumplings
Simple dumplings from flour and water, great as a side dish to perkelt and paprikash. They can also be served as an individual meal - sweet with poppy seeds and sugar ... or salty with cream cheese and fried bacon.
recipe,photo-recipe,flour medium,Pasta
Pasta
Recipe
1.
flour medium 1.3 lb (600 g) • water 1.7 cup (400 ml) • salt
Pour the flour over with water, add a pinch of salt and stir smooth, semi-stiff, sticky dough.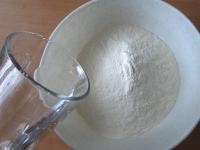 2.
In a large pot, bring to the boil water with salt. The salt amount depends on how do we want to serve dumplings. Drip dumplings into the boiling water and cook them for about 10 minutes - until they float to the top.
3.
Rinse strained dumplings under running water in a strainer. Allow them to drain and put them in a bowl, add lard or butter to your taste and stir.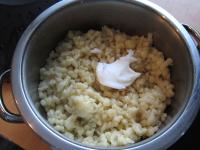 Bon appetit!