Cauliflower Spaghetti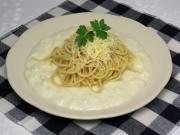 Spaghetti with cauliflower sauce.
recipe,photo-recipe,cauliflower,pasta - Spaghetti,Pasta,Seasonal recipes
Pasta
Recipe
1.
cauliflower 1.3 lb (600 g) • salt 0.5 tsp • water 0.5
Cut the cauliflower from the middle into smaller florets and cook in salted water.
2.
After cooking, mix half of the cauliflower in the water in which it was cooked and finely crush the other half.
4.
chive dried 2 tbsp • oregano 1 tbsp • pasta - Spaghetti 14 oz (400 g)
Cook the spaghetti in salted water with dried chives and oregano. Drain. Serve with cauliflower sauce and sprinkled with grated cheese.
Bon appetit!