Pasta with Spinach Sauce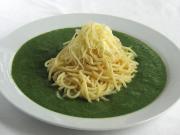 recipe,photo-recipe,frozen spinach,pasta - Spaghetti,Pasta,
Pasta
Recipe
1.
salt • water • pasta - Spaghetti 14 oz (400 g)
Cook pasta in salted water. Once it is done, drain it and put back in the pot, add butter and stir.
3.
Pour the spinach sauce over the portion of pasta and sprinkle with grated cheese.
Bon appetit!