Celery salad with cabbage and paprika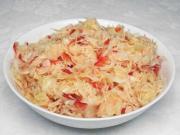 Tasty salad with honey-lemon dressing. This salad is suitable as a side dish to grilled, baked and stewed meat.
recipe,photo-recipe,white cabbage,celery,fresh red pepper,Vegetable salads,Gluten-Free,Lactose-Free,Vegetarian recipes
Vegetable salads
Recipe
2.
Cut the cabbage into thin strips, salt and mix. Let rest for 15 minutes. Then press it with hands so that it softenss and drain the excess water.
3.
lemon 2 pcs
Grate the celery thinly and cover with lemon juice from two lemons.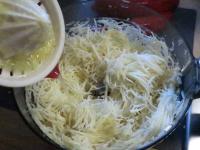 4.
Cut the paprika and onion into thin slices.
5.
Add the vegetables to the cabbage and mix well.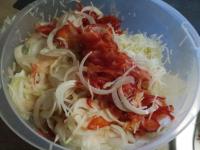 6.
water ¾ cup (200 ml) • honey 1.75 oz (50 g)
Mix honey in boiled, cooled water and cover the salad with the mixture. Mix, press down as best as possible and let overnight in the refrigerator.
Bon appetit!