Carrot-cabbage salad with yogurt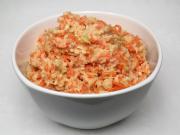 Side dish, finely bitter salad. Recipe inspired by Indian cuisine.
recipe,photo-recipe,white cabbage,carrots,yoghurt natural,Vegetable salads,Indian cuisine,Gluten-Free,Seasonal recipes
Vegetable salads
Indian cuisine
Recipe
1.
white cabbage 1.1 lb (500 g) • carrots 10.5 oz (300 g) • red onion 1.75 oz (50 g)
Wash the cabbage and cut it into pieces so that you can grate it in a food processor. Clean carrots and onions.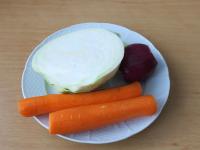 2.
salt 1 tsp
Grate the cabbage and salt. Let it rest for 15 minutes, then squeeze out the water.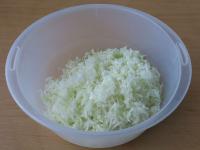 3.
Grate the carrots and onions. Add to the cabbage.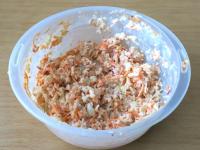 Bon appetit!